This Page is dedicated to my Extended Family from both sides. From time to time I will keep updating the news and photos as they become available.
| | | |
| --- | --- | --- |
| This is my elder brother PREM. Prem lives with his wife CHITRA in INDIA and they have a daughter PAPU who lately (1996) married Jittu an engineer living in MADRAS. Prem has now retired from active service and wants to spend time fishing/doing up his car and just relaxing. | | Prem his wife and her father Mr. Anantharaj. |
| | |
| --- | --- |
| This is RICHARD my younger brother. Richard and his wife REBEKAH live with their two daughters Persis and Elisabeth in AUCKLAND in the far north of NEW ZEALAND. | Richard and his family.. Rebekah with Elisabeth on her lap and Persis Persis and Elisabeth |
| | |
| --- | --- |
| This is my niece SHIRLEY ( Papu). Papu is the one who is married to Jittu. Papu is doing her teachers training. | Papu & Jittu on their Weding day ( 18/12/96) |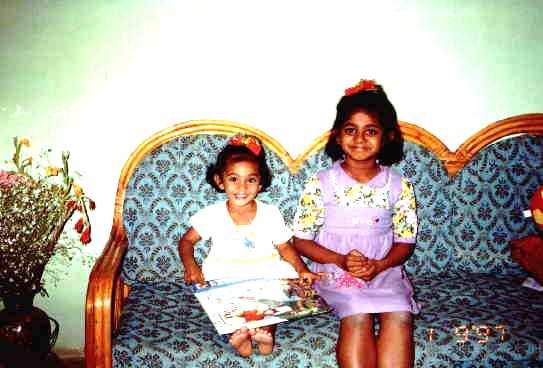 These are another of my nieces. They are WINNY on the left and KITTY on the right. Kitty and Winny are the daughters of my youngest sister FAITH ( affectionately called Baby). Baby is married to ANDREW and engineer from Bangalore working for HAL a company that makes Helicopters and fighter planes for the Air Force.
Click Here to See some rare PHOTOS
Click Here to see photos of Mary's Family